WorkSys
Smart companies, production, logistics and warehouses
WorkSys is the most comprehensive solution and leads you to solution excellence as one of the few systems to globally address sustainability of the whole process of digitization of Industry.
WorkSys is an open, collaborative and sustainable ecosystem built on ready solutions for Smart Industrial companies based on an accepted reference architecture, interoperability, modularity, based on standards and shared components.
WorkSys is an open platform integrating multiple apllications which build ecosystem of The Smart Industry.
WorkSys - elevates current state to a new level
– the way to Industry 4.0 without impacting existing systems and settings.
– allows to integrate existing sensor resources.
– works without essential need to build new data networks.
– takes advantage of current data infrastructure capabilities.
– enables to integrate existing ERP,MRP,MES or other local systems.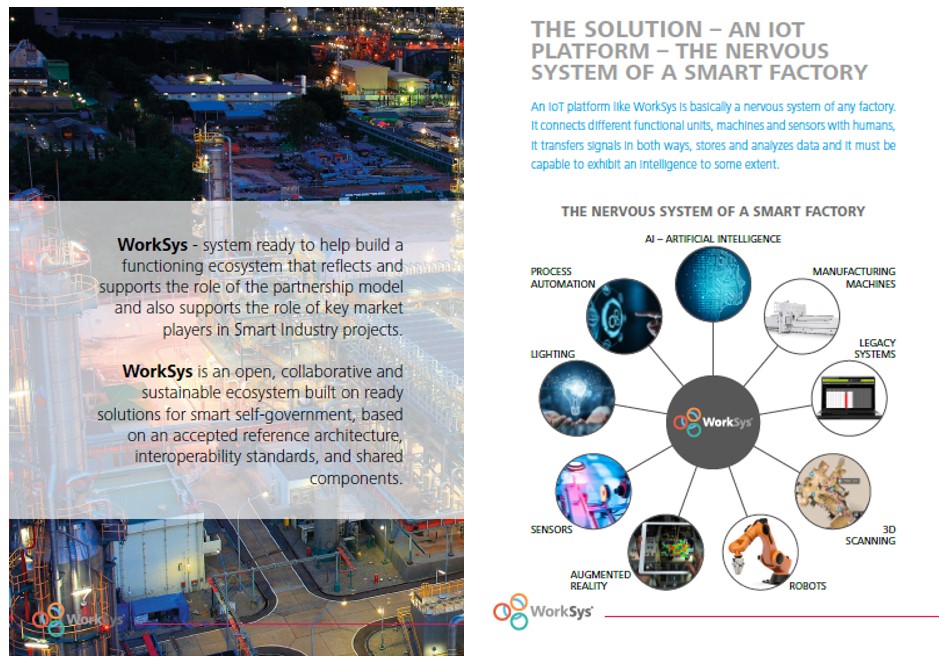 The basis of the IoT ecosystem WorkSys is the concept of simple infrastructure construction based on the existing lighting system of each industrial building. The main reason is the fact that the luminaires are located in all important parts of the factory and are evenly distributed.
Reasons for using "ordinary" lighting:
- uniformity of the network and comprehensive coverage of the entire factory;
- return on initial investment in energy savings;
- the network can be built simply by replacing lighting with special equipment;
- there is a constant voltage at 230V;
- ideal position - height and homogeneity of the entire area;
- uniform management and maintenance of lighting as well as the whole system.
WorkSys - uses lighting as a data infrastructure with advantage:
- uses PLC - power line communication technology
- uses RF communication technology
- uses GSM and LTE communication technology
More information on: https://www.oms-is.eu/worksys/