CitySys
Smart cities and villages
The system CitySys combining a Smart Lighting IOT solution with effective and immediately useable Smart City IOT infrastructure. CitySys is an open, collaborative and sustainable ecosystem to support the digitization of municipalities built on ready solutions for smart self-government based on the TOP globally respected IOT reference architecture, interoperability standards and shared components.
The system, combined with high-efficiency LED lighting, guarantees energy savings of up to 82-83% in some projects.
Interoperability - a basic prerequisite for creating effective savings scenarios and especially the functionality of services in the public interest. Ability of interconnected third-party devices with simple plugins built on the standard - opensource.
Main objectives of the ecosystem:
- To create a functioning ecosystem of smart city solutions by working together with key players in a smart city market based on mutually beneficial partnerships and barrier-free levels of cooperation
- Accelerate development and ensure long-term deployment of solutions with the help of an independent organization interoperability of solutions based on accepted standards, reference architecture and open source implementations
- Create and shape the emerging market for smart city data and services by providing expert assistance to cities and municipalities in preparation; implementation and development of solutions at their place of operation through a network of local ecosystem partners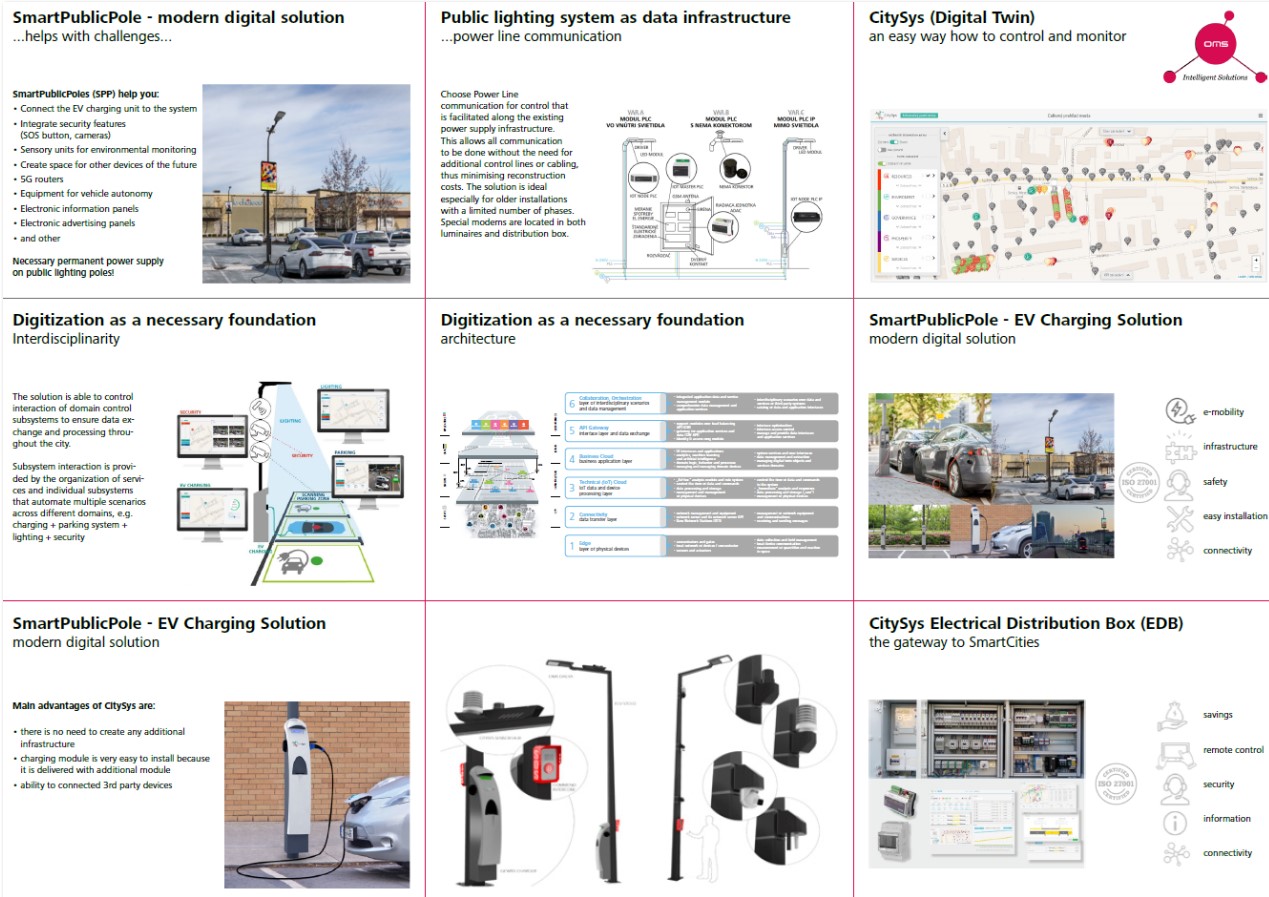 We can use a large number of intelligent elemnets in the CitySys system, sach as SmartPubliPole, SmartCityPole, SmartBusShelter, SmartEBikePole, SmartModularPole, SmartRailwayPole, Kiosk a more.
SmartPublicPole (SPP) is a modern digital solution to helps you:
- connect the EV charging unit to the mains
- integrate security features (SOS audio, cameras)
- incl. sensory units for environmental monitoring
- 5G BTS 
- equipment for vehicle autonomy
- elektronics panels 
- and others
SPP advantages:
- There is no need to create any additional infrastructure
- The charging module is very easy to install, as it comes with an additional mount module
- Ability to connect third-party devices
CityDashboard (Digital Twin City), which allows collecting and visualising informations from different city systems (such as mobility – parking, transport, safety, waste management, energy management or lighting management) in one place.
CityDashboard should be a clear, user-friendly environment in which the authorised authority(s) will be able to perform a series of operations (monitoring, controlling, KPI tracking, ROI, etc. Everything in one place is a basic premise and the reason for the existence of a single CityDashboard (partial IoT devices will not provide a comprehensive, unified overview, lacking an analytical module and interactivity)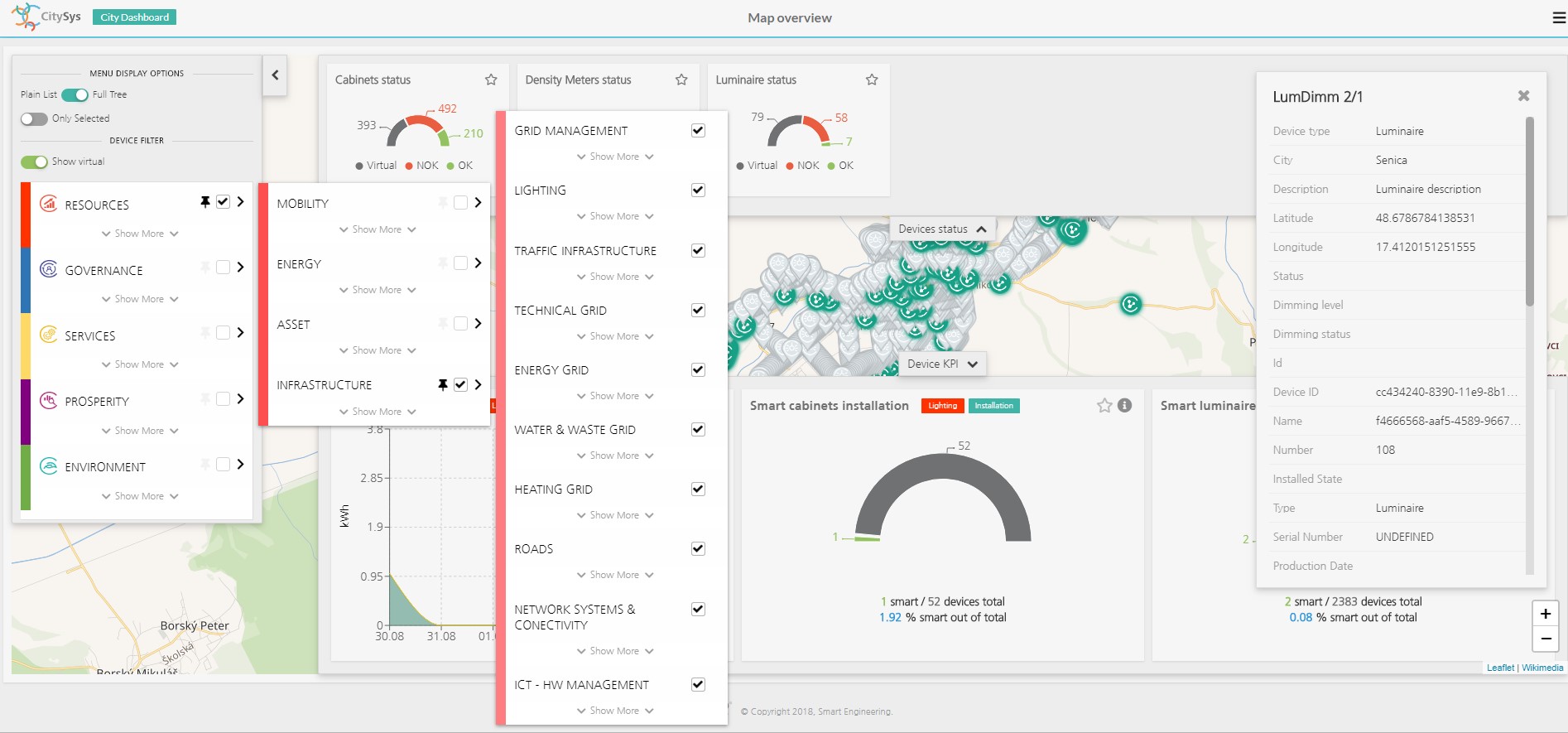 Just click on the link and receive the presentation:
Part I. - https://youtu.be/0MyVu6qT3yM ................. Introduction to intelligent lighting control
Part II. - https://youtu.be/1e4pIUUWRK0 ................ Intelligent lighting control - CityDashboard
Part III. - https://youtu.be/LBk8pyyTOwQ ............... Intelligent lighting control - EDB profiles
Part IV. - https://youtu.be/AJyP5c1dcLo .................. Intelligent lighting control - Luminaire profiles
Part V. - https://youtu.be/L5hudkhAGY8 .................. Intelligent lighting control - Profiles in general
More information on: https://www.oms-is.eu/citysys/solutions/lighting/