Smart cities and villages
The system CitySys combining a Smart Lighting IOT solution with effective and immediately useable Smart City IOT infrastructure. CitySys is an open, collaborative and sustainable ecosystem to support the digitization of municipalities built on ready solutions for smart self-government based on the TOP globally respected IOT reference architecture, interoperability standards and shared components.
The system, combined with high-efficiency LED lighting, guarantees energy savings of up to 82-83% in some projects.
Interoperability - a basic prerequisite for creating effective savings scenarios and especially the functionality of services in the public interest. Ability of interconnected third-party devices with simple plugins built on the standard - opensource.
Main objectives of the ecosystem:
- To create a functioning ecosystem of smart city solutions by working together with key players in a smart city market based on mutually beneficial partnerships and barrier-free levels of cooperation
- Accelerate development and ensure long-term deployment of solutions with the help of an independent organization interoperability of solutions based on accepted standards, reference architecture and open source implementations
- Create and shape the emerging market for smart city data and services by providing expert assistance to cities and municipalities in preparation; implementation and development of solutions at their place of operation through a network of local ecosystem partners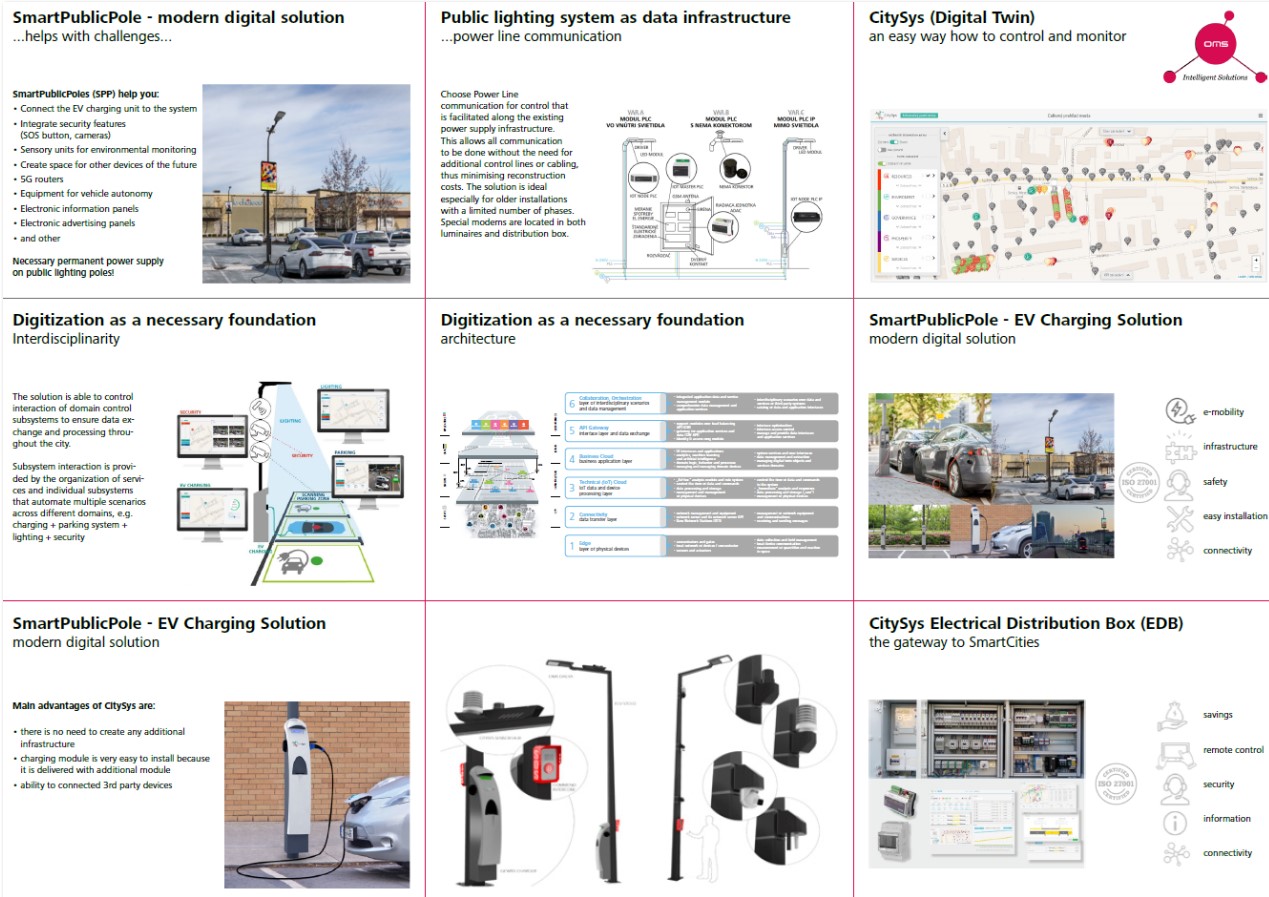 We can use a large number of intelligent elemnets in the CitySys system, sach as SmartPubliPole, SmartCityPole, SmartBusShelter, SmartEBikePole, SmartModularPole, SmartRailwayPole, Kiosk a more.
SmartPublicPole (SPP) is a modern digital solution to helps you:
- connect the EV charging unit to the mains
- integrate security features (SOS audio, cameras)
- incl. sensory units for environmental monitoring
- 5G BTS 
- equipment for vehicle autonomy
- elektronics panels 
- and others
SPP advantages:
- There is no need to create any additional infrastructure
- The charging module is very easy to install, as it comes with an additional mount module
- Ability to connect third-party devices
Smart companies, production, logistics and warehouses
WorkSys is the most comprehensive solution and leads you to solution excellence as one of the few systems to globally address sustainability of the whole process of digitization of Industry.
WorkSys is an open, collaborative and sustainable ecosystem built on ready solutions for Smart Industrial companies based on an accepted reference architecture, interoperability, modularity, based on standards and shared components.
WorkSys is an open platform integrating multiple apllications which build ecosystem of The Smart Industry.
WorkSys - elevates current state to a new level
– the way to Industry 4.0 without impacting existing systems and settings.
– allows to integrate existing sensor resources.
– works without essential need to build new data networks.
– takes advantage of current data infrastructure capabilities.
– enables to integrate existing ERP,MRP,MES or other local systems.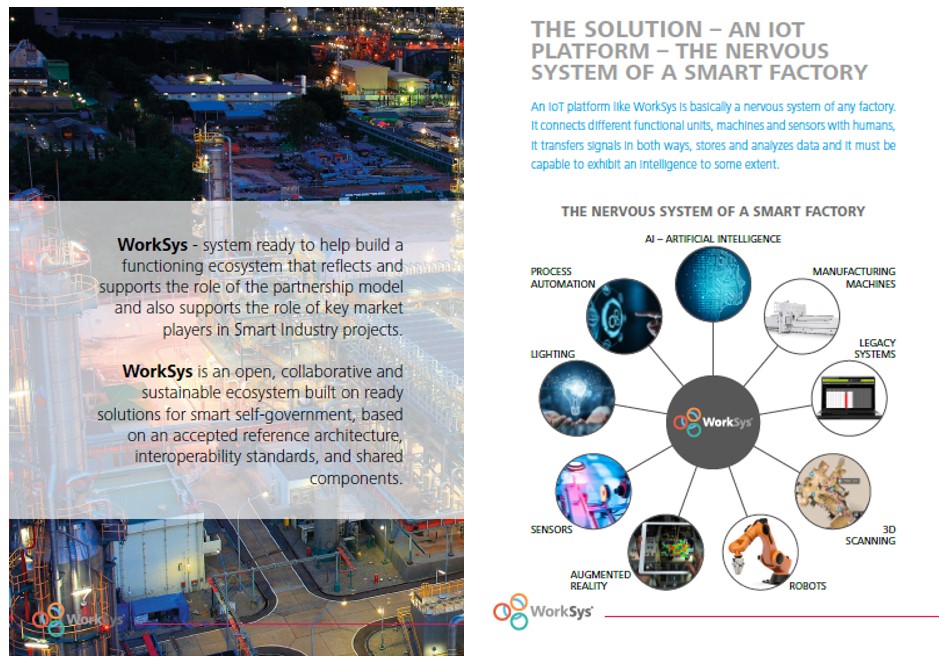 Most of the chain stores owners face problems with their products and services, due to growing competition and customer demands. The questions about where and how to place the goods properly to make them more attractive for the customer and an effort to improve their service — what goods to add to the offer or eliminate the thefts of goods belong to the issues that daily business owners deal with. In terms of overall profitability, cost-effectiveness, easy inventory, smart targeted marketing, better customer service, and true overall security for customers, employees, and the elimination of thefts of goods are among the key indicators of cost savings.
ShopSys is an innovative and effective solution for smart stores where, with the introduction of lighting sensors, we ensure that all necessary requirements are monitored by our customer in a fast and cost effective way.